Reedy Blackbox 1000Z+ Pro sensored brushless (...)

Reedy Blackbox 1000Z+ Pro sensored brushless ESC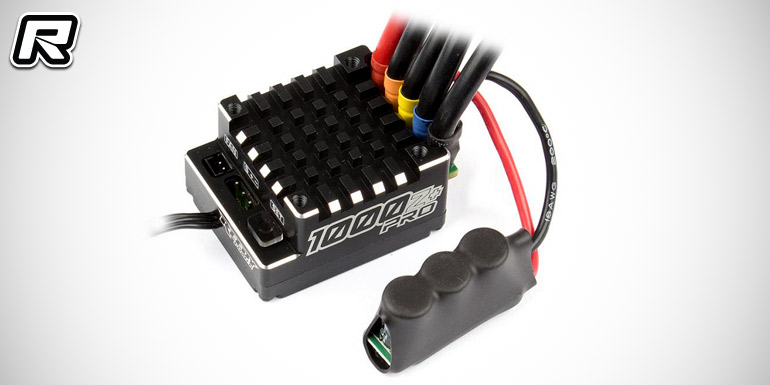 Team Associated have introduced the new Reedy 1000Z+ Pro censored brushless competition speed controller. The simple to use, yet powerful ESC offers versatile features that make it suitable for both Modified and Spec class racers. Excellent throttle and brake feel, a wide range of adjustability, and robust hardware make the Blackbox 1000Z+ PRO an excellent choice for a variety of racing applications. Improving upon the 1000Z+ it replaces, the 1000Z+ Pro features a CNC-machined top case with an integrated heat sink, fan port, and bolt pattern suitable for an optional 30mm fan. Additional Drag Brake, Drive Frequency, and Max Brake Strength settings option have been added to allow for even greater fine tuning. A more reliable Power button, shared with the 510R ESC, doubles as a selection button for settings changes. However, by popular demand, the option to make settings changes using the optional Black PROgrammer2, has been added.
Features:
– Machined aluminum heat sink upper case
– Compact footprint
– Fully adjustable brake and throttle functions
– On-board, single-button programming
– Optional PROgrammer2 programming
– Zero-timing R.O.A.R.-approved software
– Timing options for Modified racing
– Low-resistance circuitry
– Precision throttle and brake control
– Solder tabs for easy wire placement
– 13-gauge power wires
– Compact external capacitor board
– Firmware updateable
– Competition proven

Specifications:
– Voltage input: 2S LiPo
– On resistance (Ohms): 0.00014
– Continuous current(A): 100
– Dimensions (mm): 40.8×31.0x20.7
– Weight w/o wires & fan (g): 45
– Motor Limit: 5.5T
– BEC: 6.0V/3A
Source: Team Associated [teamassociated.com]
The post Reedy Blackbox 1000Z+ Pro sensored brushless ESC appeared first on Red RC - RC Car News.
... Lire la suite sur Red RC - RC Car News