RCMC Singapore Nationals Rd3 – Report

RCMC Singapore Nationals Rd3 – Report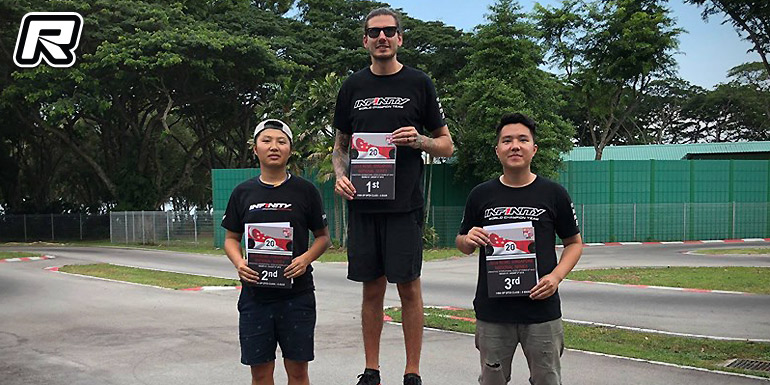 In preparation for the forthcoming Singapore International Nitro Grand Prix on September 15th and 16th, a great turnout was had at the RCMCSG East Coast Race Track for the recent third National round, dubbed the SINGP Warm-Up Race. From a World Championship winning team and drivers rocking up in full force, to people just getting started in the world of Nitro RC racing alongside local Singaporean veterans, there was something for everyone at this event. With Singapore celebrating its 53rd Anniversary this week, it was fitting to have put on such a show. However, birthday or no birthday, Singapore likes to set a challenge. With rain interrupting both round 1 and round 2 qualifying causing the grip to change dramatically as well as temperature swings playing havoc with engine settings, drivers and mechanics had to be on point to secure a direct place in the A-main.
The extended second shower after round 2 qualifying looked set to cancel Q3, and a number of drivers were looking out of position heading into bump-up styled main finals, the most dramatic of which was Jesse Davis finding himself heading up the B-main. However, with good spirit comes good fortune, and the sun broke out with enough force to dry the track very quickly, helped by a number of volunteers with leaf blowers & brooms, enabling a flat out showdown for qualifying 3.
All eyes were glued to the highest seeded heat as Infinity drivers Jesse Davis, Charvit Saligupta and Naoto Matsukura went toe to toe for TQ honours, with local hero Nelson Lee driving for ARC keeping them honest lap after lap. Naoto, who was on provisional pole at this point, unfortunately retired on lap 17 after a ballistic run, leaving Jesse and Charvit to race to the end. After seven minutes of intense qualifying it was Jesse who managed to take TQ with a stellar drive, just 1.1 seconds ahead of his team mate Charvit, with a final run of 25 laps in 7:10.184, enough to secure pole position in the A-main, with Charvit in 2nd, Naoto followed in 3rd with Nelson Lee's blistering first qualifying run securing 4th on the grid.
The A-main was set to be as thrilling as the qualifying, and didn't disappoint. If you've not had the chance to see a World Championship winning team take to your club circuit at full bore, then you've not witnessed RC in it's rawest form. Add to that some of the fastest local drivers, some of whom represented Singapore at the World Championships in 2017, it's not going to be boring at all. From the start everyone watching took a step back as all ten cars screamed down the straight and into turn one from the green light. Taking an early lead was Jesse Davis from TQ, followed by 2nd place man Charvit. Nelson Lee had a blistering start, heading straight up into 3rd place by making a jump on Naoto who was pushed wide as he tried to take 2nd place from Charvit. Unfortunately Nelson Lee suffered a flame-out early on which put pay to his chances of challenging for a podium. With Charvit also suffering from an issue in race, the closing stages of the race was a battle between Jesse and Naoto going head to head. In the end Jesse won out with just six seconds separating these two, with both race director and crowds at the end of the straight all going quite mad as he crossed the line. Following in 3rd after an excellent and consistent drive was Ryan for Infinity, making it a well deserved Infinity podium 1-2-3.
In less than six weeks time the Singapore International Nitro Grand Prix will be taking place on September 15th and 16th, and the club and organisers look forward an entertaining race. It's all set to be a stunner with the Formula 1 in town as a backdrop.
Source: RCMC Singapore [facebook.com]
... Lire la suite sur Red RC - RC Car News